Trailer cable 7 pin 4.5 m - 7-pin plug, 5-pin bayonet
Save by buying more



7 pin trailer cable
7 pin trailer cable manufactured by the Polish company Mantes .

A professional set that will allow you to install the electrical system in your car trailer. It may replace an old cable that is rotten or has a defect.

The cable is 4.5

meters long

and is adapted to light trailers up to 750 DMC.

The harness is equipped with

2 5-PIN bayonet connectors

for connecting the lights of the car trailer.

In

addition, the set includes

a 7-pin plug made of good quality plastic

resistant to weather conditions and various types of damage and cracks.

The electric harness of the car trailer is not approved as it is not legally required. The trailer must be approved, and the electrical installation is an element of it.

The assembly of the installation is quick and easy. No specialty tools of any kind are required.
The set consists of all the necessary elements for mounting the electric harness in the trailer
1x Cable for a 7-pin plug with a length of 4.5 m

1x 7-pin plug

2x 5-PIN bayonet connector for rear lamps

1x Junction for connecting marker lamps
What do the different colors in the 7 PIN plug mean?
Left indicator - Color: yellow

Fog light - Color: blue

Weight for the turn signal, fog, position, braking, reversing and test circuits - Color: white

Right indicator - Color: green

Right positioning - Color: brown

Braking - Color: red

Left positional + license plate - Color: black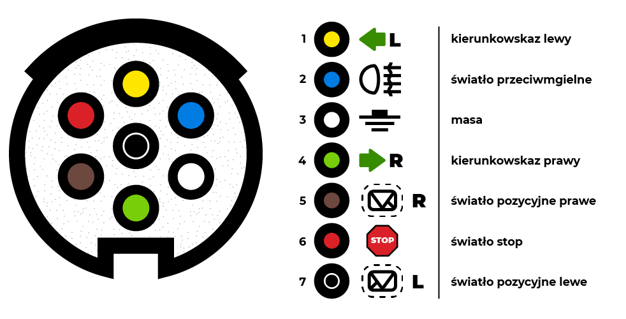 Additional products that may be useful to you
Numer katalogowy producenta