Single axle trailer 200x125 cm with side bars, mesh sides and a jockey wheel - Garden Trailer 205 GVW 750 kg
Single axle trailer on an unbraked torsion axle 
The single axle trailer is suitable for anyone who is looking for a convenient way to transport a large variety of goods. Thanks to the modern torsion axle, the trailer offers great driveability as it rests firmly on the ground even when empty. When making use of the full load capacity, which at a maximum GVW of 750 kg amounts to 622 kg, the trailer is almost undetectable when attached onto a hook. Due to this fact, every trip accompanied by our single axle trailer will be a sheer pleasure. 
Garden Trailer 205 is the largest single axle trailer in our range. The foldable drawbar allows for an easy loading and unloading of goods. All that needs to be done is to lower the transport surface. This solution is usually only available in more advanced trailers, which cost much more than our proposed price. As well as that, UNITRAILER offers a much richer range of accessories which come together with our trailers. The use of additional sides and side bars with tarpaulin gives up to 144 cm of transport surface height. The tipping trailer can be additionally equipped with prop stands, floor hooks, security nets, spare tyres, or even wheel wedges. Thanks to such accessories, our trailers will always suit your needs. 
Single axle trailer delivered straight to your door
Our single axle trailer is delivered directly to your house via express delivery services. The trailer is fully assembled and ready to be used on the road from the moment you receive it. It is enough to assemble the additional sides, the jockey wheel and side bars, which will only take you a few minutes at a push. There is no need to register trailers, which will only be used in the UK and Ireland, the GVW of which cannot exceed 750 kg. You will receive all the necessary documents from us. Simply insure your trailer and you are good to go! Car insurance policies can only offer third party cover when the trailer is being towed. The policy-holder is therefore at risk if an accident were to happen involving the trailer. Hence, it is recommended to hold a separate car trailer insurance policy in case of damages or accidents. 
2-year warranty and guarantee of material robustness
Single axle trailers from UNITRAILER have one thing in common - they are all extremely robust and resistant to all unfavourable weather conditions. The trailers come with a 2-year warranty and are sent all over the UK. This ensures that you will not encounter any problems on long-distance routes. In order to manufacture our trailers, we only use galvanised steel which protects from corrosion. The axle used has been produced by a well-know German manufacturer. Using all-season wheels allows you to safely drive with your trailer at any time of the year. 
The trailer can be easily used in the comfort of your own home, for example, when making repairs, when moving items from one house to another, when working in the garden, or on the premises of your company when transporting goods and materials. We offer the possibility to adjust the GVW value of the trailer - from 300 to 750 kg. This makes it possible to attach it onto any car. Regardless of the GVW value indicated in your vehicle's documentation, the structure of the trailer has been made to suit your needs and the materials used guarantee a high robustness of the entire product.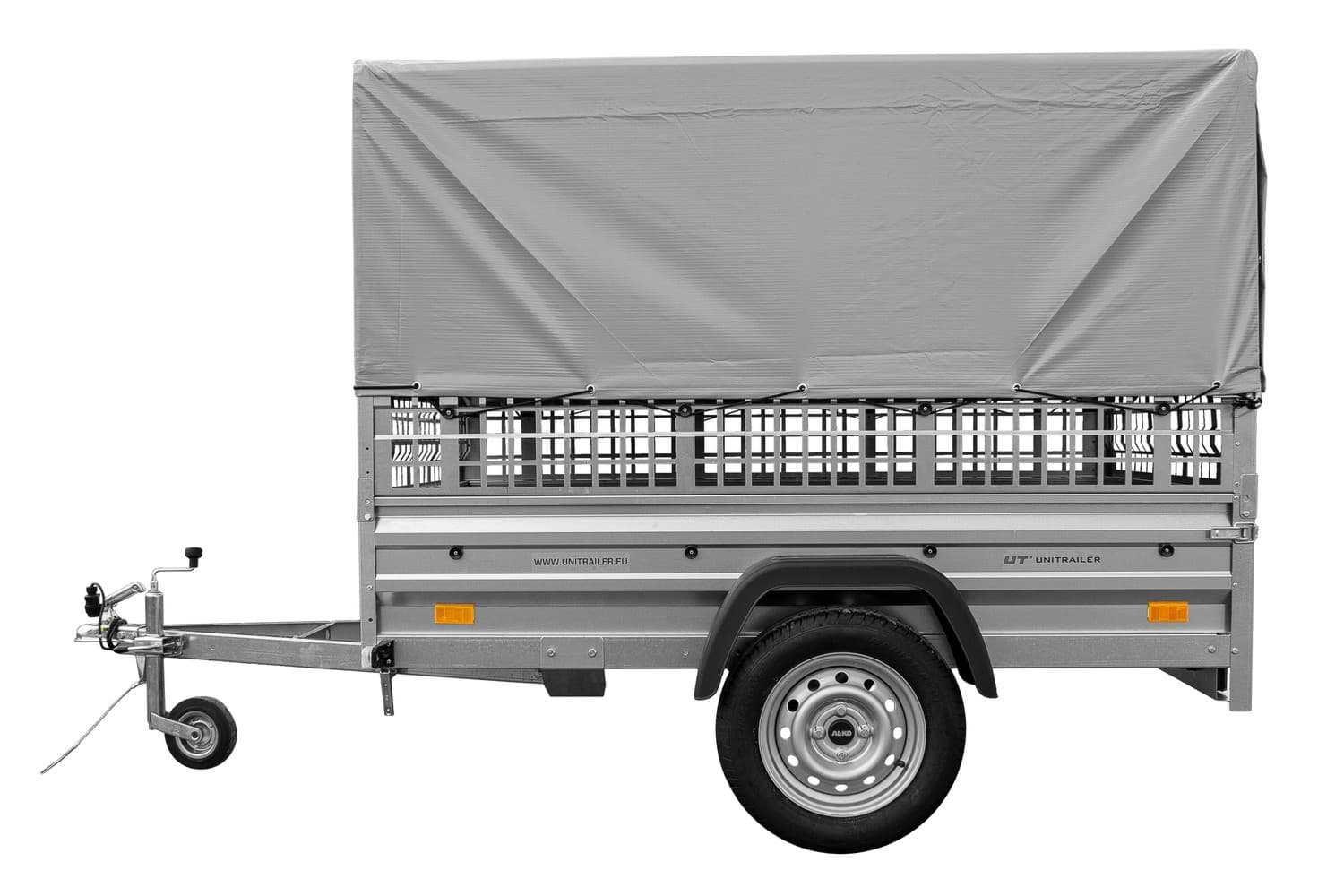 Technical specifications of single axle trailer Garden Trailer 205
CHASSIS - the renowned torsion axle made by AL-KO or KNOTT resting on torsion bars is a guarantee of great driveability. The foldable V-type drawbar has been equipped with a coupling ball made by WINTERHOFF which contains a fitted coupling correctness indicator and a steel safety cable. All-season 155/70 R13 wheels, eliminate any possible problems caused by the unevenness of roads. The support frame has been made of bolted, steel sheets, which have been previously galvanised, thus making the whole structure very robust.
BODYWORK: flooring made of high-quality water-resistant plywood, 9mm thick, with a total transport surface area of 2000x1250 mm. Total single axle trailer dimensions: 3087 mm long x 1680 mm wide x 640 mm high (together with additional side extensions and flat tarpaulin)
SIDES - total height of 64 cm (2x32 cm), made from robust steel which has been galvanised to protect it from corrosion. Great rigidity of materials used. The trailer has additional fixing points for the fastening cords of the tarpaulin which are used to secure the interior of the trailer. The openable rear side can be disassembled in its entirety. Together with the side bars and tarpaulin, the trailer measures 144 cm.
When ordering our single axle trailer, do not forget to indicate the preferable GVW value. It is therefore important that you consider the right, permissible GVW value before making a purchase. Alternatively, do not hesitate to give us a call and our consultants will be more than happy to guide you through your order. Possible GVW: 300 kg, 350 kg, 400 kg, 450 kg, 499 kg, 500 kg, 525 kg, 550 kg, 575 kg, 600 kg, 625 kg, 650 kg, 675 kg, 700 kg, 725 kg, 750 kg. 
Light trailer, single axle
,